Highlights
Trekking in Sinharaja Rainforest
Adam's Peak trek
Hulang Ella – Duwili Ella Trek
Nature Trail in Horton Plains
Train Ride from Nanuoya to Kandy
Trekking in Knuckles Mountain Range
Trek to Manigala Rock
Sigiriya Rock Fortress
Trekking is the best way to get closer to the community. Let it be a rainforest, mountain peak or a resort village, the trekking is the best mean to experience the mysteries of the nature. Listen to the nature, admire the tranquility, there is no mean than trekking/hiking. With its area of 65,525sq km, Sri Lanka is a paradise for the Trekkers.
From amateurs to hardcore enthusiasts, Sri Lanka offers a series of trekking & hiking trails around the island. During your holiday in Sri Lanka we, at Asian Escapes with our list of local guides are geared with number of trekking trails to cater your thirst of exploring this small miracle by foot.
Day 1: Arrival – Bolgoda
Upon your arrival, our Chauffer will pick you at the Bandaranaike International Airport and transfer to Aqua Pearl Lake Resort; a lake front resort in Bolgoda. Bolgoda is the largest fresh water lake in Sri Lanka which spread over 400 sq.km, located approximately 25 km from Colombo. In the evening you will be able to have a walk in the village and experience their way of life while exposing to the local climatic conditions.
Visit to the village temple, a Fisherman's House, a village house will add value to your evening walk. Playing cricket with the local children will be another unique experience of your walk. A canoe ride in the Bolgoda Lake is also a possible activity in the hotel where we could arrange on your request.
Overnight stay at Aqua Pearl Lake Resort.
Day 2: Bolgoda – Sinharaja
After an early breakfast, we will travel to Sinharaja Rainforest, which is a UNESCO World Heritage Site.  This is regarded as a virgin rainforest and home for lot of birds including 20 endemics out of 34, reptiles, mammals, butterflies, freshwater fishes and lots of species of trees with a large proportion of those being indigenous to the country and some more specifically endemic to Sinharaja itself.
Upon arrival to Sinharaja, we will check in at Jansen's Bungalow for Lunch. After having lunch, we will start our forest exploration with the snacks and water. Back to the Bungalow after a memorable walk inside this virgin forest. Enjoy the dinner and overnight stay at Jansen's Bungalow at the border of Sinharaja Rainforest.
Day 3: Sinharaja – Rathnapura
We will start another trek in the Sinharaja Rainforest early morning with packed breakfast. This is not only a usual trek, but also blend with nature and wildlife.  In this trek you will be able to spot some of the Sri Lanka's endemic mammals like Purple-faced Langur, Toque Monkey, Wild boar, Sambur, Mouse Deer, Barking Deer etc… and birds like Greater Racket-tailed Drongo, Noisy Orange-billed Babbler, elusive Red-faced Malkoha, Green-billed Coucal and Sri Lanka Blue Magpie, Lizards like Rough-horned Lizard etc… On the completion of the trek, we will come back to the entrance gate and leave for our day's destination Rathnapura; the City of Gems. If time permits you will be able to visit a Gem mine before you check in at your hotel.
Check in at Rathnaloka Tour Inn for dinner and overnight stay.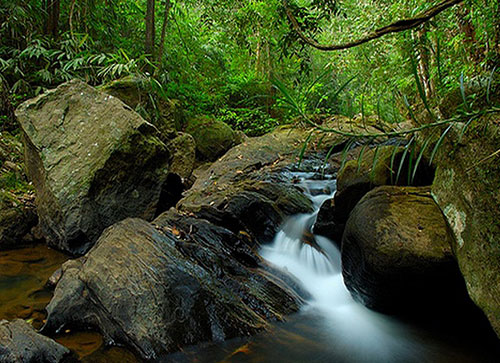 Day 4: Rathnapura – Adam's Peak
Get up early in the morning and we will start the hard session of your 14 days tour. Today our destination will be Adam's Peak (2243m above msl) which is known as Sri Pada in Sinhalese (Mountain of Sacred Footprint). Since the peak is crowned by the impression of a gigantic footprint, which is venerated by pilgrims of all religions. Buddhists pay homage to it as that of Lord Buddha, made during his third visit to the island; Hindus believe it was made by the Creative Dance of Siva; while Muslims and Christians believe it to be that of Adam, with Roman Catholics sometimes attributing it to St. Thomas. The best season for Adam's Peak Hike is between full moon days of December & May and most of the pilgrimers are climb the mountain at night.
Since we are travelling during the off season the night climbs are not possible and only the day climbs are operated and the weather is not good as in the season. Once we reach the summit, we will stay overnight in the temple on the top of the Adam's Peak and spend the night in Sleeping Bags.
Day 5: Adam's Peak – DalHousie – Belohuloya
We will witness the glorious sun rise from the top of the Adam's Peak and trek down to Dalhousie where we will meet our vehicle and transfer you to Beihuloya.
Having a rest of few hours at River Garden Resort will make you comfortable and in the evening you are free to have either a small walk in the area or to explore the area by a bicycle.
Back to River Garden Resort for dinner and overnight stay.
Day 6: Belihuloya – Hulang Ella Waterfall
After having breakfast at Belihuloya Rest House, we will be transferre to Kinchigune village from you will start the day's spell of Kinchigune – Hulang Ella Falls Trekking trail. Your lunch will be arragnged at Kumbalgama Village. During this trekking trail, Trekkers are expected to carry their own necessities in a comfortable backpack so that the campers and guides are able to carry tents/provisions etc. This is camping/trekking on a very participatory basis!
Beyond the Kumbalgama Village temple, the trail goes through a very small village into a completely uninhabited area, characterised by intermittent patches of forest and savanna, eventually leading to the Walawe River. The river marks the 8km point of the trail, but to continue on we cross it at 'Mulgammankada' and hike through the Riverine Forest, alongside and down the river. During the next part of the trail, we will not come across any human habitations, and apart from an occasional small group or two of gem miners, who come to this desolate area and camp out here to mine for gems, one will not meet other humans on the way. After another 2km walk, we come to a beautiful rocky area where there is a waterfall of about 40 ft in height. This waterfall is called 'Hulan Ella' or the 'Walawe Ganga Falls (West)'. The beautiful, serene, and ever-changing forest next to the river and waterfall is home to an abundance of varying flora and fauna. The fauna in this area consists of the occasional elephant, sambhur Deer, Indian Muntjak, flying and giant Squirrels, many birds (Changeable Hawk Eagle, Brown Fish Owl, Stork Billed kingfisher, Gray Hornbill etc.), Lizards (3 endemic), Geckos, Skinks, Snakes, Amphibians, Snails, Butterflies and Fishes. Dinner and overnight stay at Camp at Hulan Ella.
Day 7 – Hulan Ella – Duwili Ella Falls – Belihuloya
After breakfast we will break camp and continue through the forest, passing a place where the river divides into three and flows down as three streams for about 300 metres before rejoining. Always remaining in the cool shade of the Riverine Forest, we will
reach our final destination in time for lunch. At the end of 10km walk from 'Hulan Ella' we come to the 'pièce de resistance' – the majestic, breathtaking and awesome 'Duwili Ella Falls'. This waterfall is also called the 'Walawe Ganga Falls (East)'. It plunges a dramatic 80 ft from a level rocky ground into a large deep pool at the base. The falling of the water creates a cloud of spray, resembling a cloud of dust (hence the name 'Duwili Ella' – in Sinhalese, 'Duwili' means 'dust' and 'Ella' is 'waterfall').
Lunch at the Duwili Ella Falls .After lunch there is a short climb up some steps where you will be met by your vehicle. Drive to River Garden Resort for Dinner and overnight stay.
Day 8: Belihuloya – Horton Plains – Nuwara Eliya
After breakfast start we walk along the A4; Colombo – Badulla road till you reach Kalupahana junction which leads to Udaweriya estate via Bambarakanda Waterfall which is the highest waterfall in Sri Lanka. The trail is called Devil's Staircase or Satan's Steps because of its formation. Walking through tea estates and the workers' quarters will bring to different experience you feel so far. This is a bit hard trek about 20 km & it takes approximately 6 hours to reach Udaweriya junction.
Upon reaching at Udaweriya Junction, your vehicle will take you to Horton Plains National Park enrance where you can have a short break before you start the second spell of your day's trek.
After a short break we will start trekking in to the jungle & trekking towards World's End (approx. 5 km in 2 hrs). Once reach the world's End; enjoy the panoramic view of steep drop you can see the trail that you trek along to reach world's end. Now you are in Horton Plains National Park which lies in the highest altitude in Sri Lanka. Then start to trek towards the main entrance of Horton Plain National Park via Bakers Falls. This is a soft trek on a flat land & you can see lot of birds & some other animals.
Upon reaching the park entrance you will take you to the vehicle & transferred to Nuwara Eliya. Dinner & overnight stay at Avian Breeze Hotel in Nuwara Eliya.
Day 9: Nuwara Eliya – Kandy (Train transfer)
Today is a special day of your holiday. After breakfast at Avian Breeze, you will be taken to Nanuoya Railway Station from where you will be transferred in a local train to Kandy. You will have an opportunity to move with local people while you are on your train journey.
You will be off the train from Peradeniya Railway station from where you will be transferred to Kandyan Manor Bungalow for dinner and overnight stay.
Day 10: Kandy – Knuckles
After having breakfast at Kandyan Manor, we will visit the most sacred place of veneration for the Buddhists in Sri Lanka; Kandy Temple of Sacred Tooth Relic of Lord Buddha. Leave for Knuckles via Matale & Rattota after visiting the temple. Check in at Sir John's Bungalow which was a residence of one of the former Prime Ministers in Sri Lanka; Sir John Kotalawala. In the evening you will be able to walk in the vicinity of the Bungalow. Dinner and overnight stay at Sir John's Bungalow in Knuckles.
Day 11: Knuckles
We will leave for the day's trek after having breakfast at the Bungalow. Its name derived from its shape of a clenched fist, which forms a scenic wonderland; Knuckles Mountain Range offers numerous trekking trails enriched with flora & fauna.
Blended with the indigenous community of more than 2500 years old Knuckles Mountain Range forms a unique bio–cultural landscape. Indigenous community in this area has always interacted with and depended upon the Knuckles Frosts and this association goes as far back as prehistoric times. Enjoy the packed lunch during your trek and return to Sir John's Bungalow in the evening for dinner and overnight stay.
Day 12: Knuckles – Sigiriya
Leave for Sigiriya via Matale after breakfast. Visit a spice & herbal garden in Naula in which grows the traditional spices and herbs. Proceed to Sigiriya and visit Dambulla Cave Temple & Golden Temple enroute. In the evening you will witness the engineering marvels of the great ancestors who contributed to create one of the greatest buildings of the ancient era; Sigiriya Rock Fortress.
Climb upto the summit of the Sigiriya Rock Fortress and enjoy the breathtaking scenic view of the area.
Back to foothills and proceed to Flower Garden Eco Village for dinner and overnight stay.
Day 13: Sigiriya – Negombo
After enjoying your breakfast at the hotel, we will go for a trek in Hiriwadunna authentic village. This trek consist of walk, bullock cart ride and a catamaran ride. You will be able to experience the countryside and the local traditional cooking.
You will be able to help the villagers to prepare your lunch. Saying goodbye to the village people, proceed to Negombo. Rest of the day at leisure on the beach. After collecting remarkable memories in your journey, get ready for the departure on the following day.
Enjoy the dinner and overnight stay at Beacon Beach Hotel in Negombo.
Day 14: Departure
You will be transferred to the Bandaranaike International Airport to connect with your departure flight depending the flight schedule.