Highlights
Visit Sinharaja Rainforest
Udawalawe National Park
Yala National Park
Bundala National Park
Whale Watching in Mirissa
Visit gem mine
White Water Rafting in Kithulgala
Horton plains National park
Wasgamuwa National park
Day 01 : Arrival – Mount Lavinia
Our Tour Guide will meet you at the Bandaranaike International Airport upon your arrival to Sri Lanka and transfer to Mount Lavinia, a beach front town 8 km south to the Colombo capital.
Check in at your Hotel.Enjoy your sunset dinner and overnight stay at your hotel in Mount Lavinia.
Day 02 : Mount Lavinia – Sinharaja
After an early breakfast, we will travel to Sinharaja.Upon arrival at Sinharaja, we will check in at Rainforest Edge for Lunch.After lunch, we will start our forest exploration with the snacks and water.
Sinharaja Rainforest is a UNESCO World Heritage Site. This is regarded as a virgin rainforest and home for a variety of birds including 20 endemics out of 34, reptiles, mammals, butterflies, freshwater fishes and lots of species of trees with a large proportion of those being indigenous to the country and some more specifically endemic to Sinharaja itself.
Back to the hotel after a memorable walk inside this virgin forest. Dinner and overnight stay at Rainforest Edge.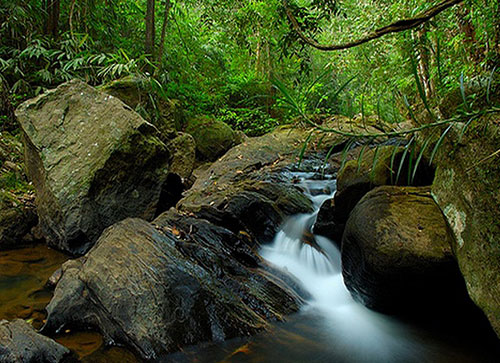 Day 03 : Sinharaja
Full day at Sinharaja Rainforest.
Today we will start our rainforest exploration tour with picnic lunch where we will not be back at the Hotel for lunch. The day's highlights will be a list of birds and wildlife in Sinharaja. Mammals like Purple-faced Langur, Toque Monkey, Wild Boar, Sambur, Mouse Deer, Barking Deer etc… and birds like Greater Racket-tailed Drongo, Noisy Orange-billed Babbler, elusive Red-faced Malkoha, Green-billed Coucaland, Sri Lanka Blue Magpie, Lizards like Rough-horned Lizard (Ceratophoraaspera) and the Hump-nosed Lizard (Lyriocephalusscutatus) can be found in Sinharaja. Invertebrates include the endemic Common Birdwing butterfly and the inevitable leeches.
Back to the hotel in the evening and enjoy the dinner and overnight stay at Rainforest Edge.
Day 04 : Sinharaja – Udawalawe
Leave for Udawalawe after the breakfast at Rainforest Edge.Check in at Grand Udawalawe Safari Resort and leave for an evening safari at Udawalawe National Park.
Udawalawe National Park is the best place in the world to view large herds of Asian Elephant throughout the year. The park is a mixture of abundant Teak plantations, grasslands, scrub jungle and riverine 'gallary forest' along the Walawe River and Mau Ara. Many elephants are attracted to the park because of the Udawalawe reservoir, with a herd of about 400 believed to be permanently resident. Udawalawe is an important habitat for water birds and Sri Lankan Elephants.
Back to the hotel upon the completion of the safari drive and rest of the day at leisure.Dinner and overnight stay at Grand Udawalawe Safari Resort.
Day 05 : Udawalawe – Ella
Early morning leave for another safari in Udawalawe National Park with packed breakfast.
This safari will be a remarkable birding experience. The endemic species of bird called Red Faced Malkoha has its favorite habitat while Serpent Eagles, Hawk Eagles, White Bellied Sea Eagles, Black Eagles, Black Capped Bulbuls, Racket Tailed Drongos, Malabar Pied Horn Bills, White Necked Storks, Open Bills, Ibis, Shama are commonly seen. The forest Nightingale, Strol Billed Kingfishers and peacocks are found in fair numbers.
Proceed to Ella upon finishing the safari drive. Upon your arrival at Ella, get into a 4WD Jeep and drive to your day's destination; Ella Jungle Resort which is approximately 2.5 km inwards the jungle.Rest of the day at leisure. You will be able to engage in some adventure activities in the resort.Dinner and overnight stay at Ella Jungle Resort.
Day 06 : Ella – Yala
After breakfast, we proceed to Yala via Tissamaharama.Arrive at the park entrance and drive to your campsite for Lunch. You can rest after having a Sri Lankan lunch before we start the evening safari.
YalaNational Park is well recognized as one of the best parks in the world to observe leopards. The leopards at Yala are largely considered as having the highest density of leopards in the world. Those are a subspecies of leopard native to Sri Lanka which is known as Sri Lanka Leopard (Pantheraparduskotiya) which is considered to be endangered. The other biggest draws in Yala are Elephants and sloth bears. A game drive could yield a Black-naped Hare, Spotted Deer, Sambar, Hanuman Langur, Toque Monkey, Stripe-necked and Ruddy Mangooses, Wild Boar, Jackal, Land and Water Monitor and Marsh Crocodiles. At the end of the Northeast Monsoon (February) the park is frequented by butterflies.
After the evening safari we will be back at the campsite. The campsite will be illuminated by flame torches and lanterns where you will be served a BBQ dinner while the nature will provide the background music with its waters and wildlife. Overnight stay at the Campsite by Master Campers.
Day 07 : Yala – Bundala – Galle
Early morning we will do a safari drive with packed breakfast to try for another set of wildlife. After the safari, you will be transferred to Bundala National Park for a Safari drive.
Bundala National Park is an internationally important wintering ground for migratory water birds in Sri Lanka. Bundalaharbours 197 species of Birds, the highlight being the Greater Flamingo, which migrate in large flocks. Being a highlighted bird sanctuary, about 100 species of water birds inhabit the wetland habitats in Bundala, half of them being migrant birds. Greater Flamingo which visits in large flocks of over 1,000 individuals, from Rann of Kutch of India being the special attraction. Other water birds which are present in large numbers include Lesser Whistling Duck, Garganey, Little Cormorant, Indian Cormorant, Grey Heron, Black-headed Ibis, Eurasian Spoonbill, Asian Openbill Stork, Painted Stork, medium sized waders, Tringa subspecies, and small waders, Charadrius subspecies. Black-necked Stork, Lesser Adjutant and Eurasian Coot which are rare birds that inhabit the national park.
Back to the park entrance once you finish the safari and proceed to Galle, which is the major city in the southern province of the island. Check in at Unawatuna Beach Resort. Do a city tour in the evening and overnight stay at Unawatuna Beach Resort having the dinner from the hotel itself.
Day 08 : Galle – Whale Watching
With packed breakfast we will travel to Mirissa for a Whale Watching Boat Ride which will be the highlight of your wildlife holiday. The boat ride will start at sharp 7.00am from the Mirissa Fisheries Harbour and leave for Dondra Point where you can spot Whales in their natural habitat. The south coast of Sri Lanka is one of the very best places to see Blue Whales in the entire world. Indeed it is almost the best to see both Blue Whales and Sperm Whales together. Most of these Blue Whales are on migration, en-route from their North East monsoon feeding grounds off Trincomalee to their South West monsoon feeding grounds in the Arabian Sea. The other cetacean species that can be seen during you 3 – 4 hours boat ride are Bryde's Whale, Dwarf Sperm Whale, unidentified Beaked Whale, Spinner Dolphin, Striped Dolphin and Indo-Pacific Bottlenose Dolphin.
Back to the Hotel in the afternoon and rest of the day at leisure on the beach.Dinner and overnight stay at Unawatuna Beach Resort.
Day 09 : Galle – Rathnapura
Spend some more time in the beach and we will start the journey to the north central part of the country via cool hills.We will end our day's journey in Rathnapura; the City of Gems.
If the time permits you will be taken to a gem mine to witness the unique methods of extracting the precious from the mother earth.Check in at Lake Serenity Boutique Hotel for dinner and overnight stay.
Day 10 : Rathnapura – Kithulgala – NuwaraEliya
Leave for NuwaraEliya after the breakfast. En route we will stop at Kithugala. Kithulgala is a small town situated in the south west of the Hill Capital Kandy and north to the fascinating Holy Mountain, Adam's Peak. Kithulagala is famous because of the Academy award winning film "The Bridge on the river Kwai" was filmed in Kithulgala and the Thrilling activity "White Water Rafting". The Beli Lena cave, one of the pre historic caves in Sri Lanka which holds evidence of a lost generation of Sri Lanka 12,000 years old; is located in Kithulgala.
We will stop at Kithulgalafor a thrilling affair with currents and rapids; White water rafting. The lunch could be taken after the Rafting ride. After having lunch at Kithulgala, we will proceed to NuwaraEliya, the coolest town in Sri Lanka. Check in at Avian Breeze and you are free to explore the NuwaraEliya city in the evening on your own. Dinner and overnight stay at Avian Breeze.
Day 11 : NuwaraEliya – Horton Plains – Kandy
With a packed breakfast we will travel to Horton Plains early in the morning.
Horton Plains (MahaEliya) National Park is the national park which is located in the highest altitude in Sri Lanka covered by montane grassland and cloud forest. Being the home for 24 species of mammals, 87 species of birds, 9 species of reptiles and 8 species of amphibians Horton Plains offers nature enthusiasts a remarkable experience. A large herd of Sri Lankan Sambar Deer roam the park and other mammal species found in the park include Kelaart's Long-clawed Shrews, Toque Macaques, Purple-faced Langurs, Rusty-spotted Cat, Sri Lankan Leopards, Wild boars, Stripe-necked Mongooses, Sri Lankan Spotted Chevrotains, Indian Muntjacs, and Grizzled Giant Squirrels. This is the only National Park in Sri Lanka in which visitors are allowed to walk.We will visit the most attractive tourist destination in the Horton Plains, the 'Worlds End' where the 2000 meters plateau comes to an abrupt end, plunging 700-1000 meters to the valley floor. The 'Little Worlds End' is another popular location, falling a mere 300 meters, along with Baker's fall which we will visit during our walk.
Back to the park entrance upon finishing the nature walk to leave for Kandy. Visit a Tea Plantation and a Tea Factory on your way to Kandy where you will be ablesip a Cup of Fresh Sri Lankan Tea. Check in at Hotel Suisse in Kandy. Evening we will do a city tour in Kandy where you can visit the Temple of Tooth, Gem Museums and in the late evening you can witness a Cultural Show. Back to the Hotel for dinner and overnight stay.
Day 12 : Kandy – Wasgamuwa
After the breakfast at Hotel Suisse, we will proceed to Wasgamuwa via Hasalaka. Check in at Far Cry Resort in Wasgamuwa and leave for a safari drive in Wasgamuwa National Park.
With its Tropical dry mixed evergreen forest predominates, characterized by trees, Wasgamuwa National Park is located approximately 113 km from Kandy. The name of the Wasgamuwa has derived through the words "WalasGamuwa". "Walasa" is Sinhala for Sloth bear and "Gamuwa" means a wood. So as name suggest, the Sloth Bear is one of the main attractions of this National Park. The known fauna of Wasgamuwa National Park comprises 23 species of mammals, 143 species of birds (including 8 endemics), 35 species of reptiles (7 endemics), 15 species of amphibians, 17 species of fish and 52 species of butterflies. Elephants, Sloth bears and Leopards are the main attractions of the Wasgamuwa National park and Golden Jackal, Water Buffalos, Slender Loris, Wild Boars and few species of deer can also be seen.
Back to the hotel after the safari. Dinner and overnight stay at Farcry Resort.
Day 13 : Wasgamuwa – Negombo
Long day ahead. We will leave for Negombo after having breakfast at Farcry Resort in Wasgamuwa.
Negombo is a characteristic fishing town having a fascinating and picturesque beachfront located in the close proximity to the Bandaranaike International Airport. With the high density of Roman Catholic People, it is known as Little Rome. The Negombo Lagoon is famous for its harvest of lobsters, crabs and prawns and fish auctions on the beach that are worth a look at.
Check in at JetwingBlue and in the evening you are free to lay down and relax on the beach. Enjoy a sea food dinner at Jetwing Blue and get ready for departure on the following day.
Day 14 : Negombo – Departure
Leave for Bandaranaike International Airport after the breakfast to fly back to your home or to your next destination in your holiday plan.